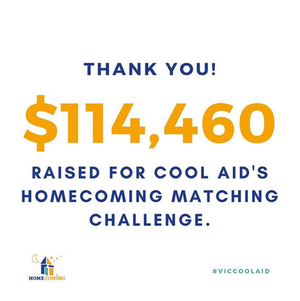 A big thank you to our amazing supporters for helping us exceed our fundraising goal! Together we raised more than $114,000 so that for people who are vulnerable can still count on Cool Aid to continue providing critical programs like health and dental care, compassionate support and food security.
Please join us in thanking our wonderful matching partners:
Andrew Beckerman, The Viveka Foundation, Knappett Projects Inc., Butler Concrete & Aggregates, TL Housing Solutions. We are also very thankful for the 60 businesses and people who helped with gifts to the Homecoming Auction this year.
A special thanks to Calum Graham for performing the Facebook Live concert in support of Cool Aid.
Your continued support of Cool Aid touches so many lives. We couldn't do it without you!
---
All of us - including some great guitarists - Calum Graham boasts eight fingers and two thumbs on two hands. But it is his singular musical brain that governs it all. And when everything aligns cosmically the result is extraordinary. In fact is quite magical because when you put a guitar in his hands (he plays several kinds -  acoustic, baritone and harp) the instruments sometimes becomes a chamber ensemble.  On 'Thread of Creation', his six album, Graham takes us right into the heart of his magical world that included the iconic 'Tabula Rasa'. With Graham's hands, the guitar reveals it's huge vocabulary of sounds, with minimalist electronic effects combined to make it sound as big as an ensemble. Graham brings his unique musical insight and musicianship to deploy all of the instruments capabilities effectively. From using harmonics and pizzicato to exotica such as bi-tone tapping and percussion you might wonder if his guitar has a drum set attached. Graham turns a simple one-to-five minute song into a poetic miniature. His music is inspired, original and daring and there are several examples of this on 'Thread of Creation' - such as 'The Nomad' and 'Ma Lumiere' - to name but two. Bassist Michael Manring makes 'In Lak'Ech' truly atmospheric; Antoine Dufour does likewise on 'Absolution'. Meanwhile Graham emerges as the pre-eminent artist technician.
-Raul da Gama (taken from Wholenote Magazine Vol.25 No.5 - https://www.thewholenote.com)
Calum Graham & Don Ross
ARTIST OF THE MONTH 
Calum Graham and Don Ross recently collaborated on the album "12:34," featuring the Quantum Trinity Mini System:
There's never enough that can be said about the great natural acoustic tone of the Quantum Trinity Mini System. Calum and I have both been using it for years now and we love it. There isn't a show that goes by where we don't have several people ask how we get such a great natural tone plugged into a PA. It just doesn't seem possible!

We are both extremely happy with the sound that we got on our latest duet CD, "12:34″ where K&K pickups were an integral part of contributing to the great sound we received on the record. Thanks to K&K, it will be easier than ever for Calum & I to replicate the amazing sound we got in the studio when we play live on our upcoming tour in late 2013/early-mid 2014. Thanks K&K!!
LaGuitare.com : Hello Calum, it is a pleasure to have you here. Could you tell me more about you ? Who you are, when you started guitar, your influences etc. 

Calum Graham : I started playing guitar when I was 13 years old. My dad would come home at night after work, and would pick up the guitar and play a bunch of old classic rock songs. Eventually I got him to show me the chords and then I started playing all the time. Then I started taking punk rock and metal guitar lessons when my teacher introduced me to a player named Don Ross and that's when my whole world opened up. I started learning how to play his songs and spent the majority of my time learning how to master this style. From there I discovered many other fingerstyle artists such as Leo Kottke, Michael Hedges, Andy McKee, Antoine Dufour, and Tommy Emmanuel. 

LaGuitare.com : 2013 was a significant year for you ( "12:34", "Phoenix Rising » ). How do you feel looking back at 2013 ? Do you have a personal highlight ? 

Calum Graham : Looking back I'm really grateful for the opportunity I had to work with Don Ross and work alongside him. Also the chance to record our album at such a renowned studio in Canada (Metalworks Studios), was a real treat. Getting our album signed to Candyrat records was a big milestone for me as well. Doing another album for Candyrat (Phoenix Rising) kind of came about accidentally as I went down to Milwaukee to record solo guitar videos for "12:34"and we ended up making a solo album! All in all those are my big highlights, and I have a lot to be thankful for in 2013. 

LaGuitare.com :"Phoenix Rising » is, in my opinion, an amazing CD. Could you tell me more about the creative process of being an instrumental composer ? 

Calum Graham : Well thanks! I'm really happy with how it turned out as well. In the writing process I have to have a melody that's interesting that leads somewhere. From there I try and build a story around it that really says something or communicates some kind of emotion. For me to even finish a song, it has to make me feel something, or move me in some way and not just be technically amazing. There's a big difference.
 
LaGuitare.com : You started to sing (« I do believe », « Mesmerizing »... ) but you stopped. Why ?

Calum Graham : 2013 was a year for me to really focus on the instrumental guitar and put out the best of my work to date. During that time I got to develop myself more as a singer and get more experience, as I've been playing guitar much longer than I have been singing. Actually it's funny that you mention that because now I'm working on three new vocal albums including one with a band where I'm playing electric guitar & singing lead vocals. A lot of my fans have requested that I sing more, and I'm really looking forward to branching out with these next few albums. 

LaGuitare.com : Now, you are a Candyrat artist. How do you feel ?

Calum Graham : In high school I was always listening to artists from the candyrat music label. I would be on their website all the time searching for new artists and finding tabs of my favourite songs to play. So it's really cool to be a part of the label that I loved ever since I started music. 

LaGuitare.com : Could you tell me more about your gear ? What is your « weapon of choice » ?

Calum Graham : I'm currently playing a Stonebridge G24SK Acoustic, and a Baritone from them as well. I'm also getting a Harp Guitar very soon from a luthier named Charles Shifflett in my hometown of High River, Alberta - which I'm really looking forward to playing. For pickups I use a K&K Trinity & LR Baggs magnetic pickup through a D-TAR Solstice preamp. I use D'addario & John Pearse strings and use a Line 6 multi-fx unit for my effects onstage. 

LaGuitare.com : When can we expect to see you in France ?

Calum Graham : I'll be performing with Don Ross in Germany this May, and we're looking at doing supporting dates around Europe so we will know soon if we'll also be performing in France. Fingers crossed! I would love to be back. I visited France in 2012 while I was performing at the London Olympics and have been anxious to get back ever since!!

LaGuitare.com : Would you like to add something ?

Calum Graham : Thanks for your time! Looking forward to meeting you & performing in France very soon.....and having more chocolate croissants cause seriously...the croissants in Canada are just plain terrible once you've had a real French croissant!

LaGuitare.com : Thank you Calum

Charles-Henri G.D. - February 5, 2014 - http://www.laguitare.com/guitare-guitaristes-calum_graham-phoenix_rising_album_and_interview-candyrat-8247-0.html